Craigslist Tree Services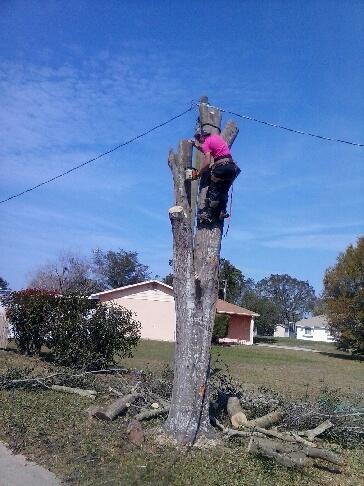 Mostly what I'm talking about is tree service ads on Craigslist. I like craigslist quite a bit. I run many ads on craigslist from selling barrels to pigs. I give away free firewood and mulch on craigslist.
But craigslist is what it is. The craigslist ads that are posted in Hernando County under tree removal are monitored by the county and some of the licensed tree companies. The county periodically goes through craigslist to see what unlicensed companies are advertising tree removal, since in Hernando County it's illegal to remove trees without a contractor's license. You're not allowed to run ads that say tree removal unless you're licensed.
Since you have to have a license to remove trees, but you can trim off branches without a license. You have companies trying to fool you and make it look like they are licensed. So they will run their ad saying, "Tree trimming. We meet all your tree needs". Or they'll run their ad under Pasco for tree removal or licensed tree service. In the ad it will say in surrounding counties. Or they'll run their ad in Hernando saying, "We are a full service tree service". Or they'll run their ads under Hernando saying, "Tree service yes we are insured". Two words they cannot say if they're posting under Hernando without a license is: "Tree removal" or "Licensed". Some will try to trick you by saying small tree removal. Because you are allowed to bush hog over saplings which are considered small trees, and are legal to run over. Any tree less than three inches is not considered a tree in Hernando County. Another thing they try to sneak in by saying things like "Tree service trimming and downed tree removal". Because if you have a dead old tree that's been lying on the ground in the lot next door for two years, you don't need a license to remove it. But if the tree is standing dead or alive it requires a license larger than three inches in Hernando County.
In the whole year of 2014, I only saw four licensed tree companies advertise tree removal, under Hernando County. And they are Jon Davis Tree Service, USA Tree Service, Gardners Tree and Fence and Dougs Tree and Stump Grinding. When you see an ad on craigslist, if it says licensed or tree removal remember it's not necessarily true, even though it's a misdemeanor to run the ad and a felony to do the work. The county has a procedure to remove the ads; they email them telling them to stop, call them to tell them to stop, and send them a certified letter telling them to stop. And ultimately they can take the sheriff's department and serve them with papers and a fine. But the nice thing about them running their ads saying tree removal or licensed, is that the county gathers and collects the information. So now during the next sting, when the county calls a tree service out for an estimate they can't yell entrapment by the county because they ran an ad saying tree removal and or licensed in Hernando County. This also goes for the flyer and the scene, a business card or a previous estimate they've given.
If you read my earlier articles, you've seen the two questions I ask my customers: Where did you hear about me? And what tree service did you use last time? When they say craigslist the first thing I do is give them a list of licensed tree companies. And I give them a list of the ones advertising on craigslist that are not licensed. I give them the county licensing department number 352-754-4050 and tell them to call before they hire anybody. I also recommend to them since we're trying to cut back on the unlicensed tree guys and scammers, that they go ahead and let the unlicensed tree guy give them an estimate. And then turn all that information over to the county; estimate, business card, license plate number, because the county will appreciate it and use it in their next sting.
Many of these guys try to give you the old sob story that the county wants all the money and they can give you a better price because they don't have all the over head. But even if an unlicensed tree service carries insurance, it doesn't cover tree removal cause they are not licensed for it. Their insurance company isn't going to cover tree removal for someone that does general landscaping or lawn mowing. No more than their going to cover landscaping insurance for dental work.
By hiring that licensed tree company, you're stimulating the economy and protecting yourself. You're protecting yourself because; they have insurance, bond, license, workman's comp and or filed exempt. So they or their workers cannot sue you if they get hurt on your property. And you're covered if they damage anything. At the same time the unlicensed company is not stimulating the economy or protecting you. Most of the unlicensed guys pay their help in cash. if they're getting paid in cash under the table. They can still collect workman's comp if they have a claim; they can collect unemployment because they're getting paid in cash. Food stamps, welfare, Medicaid. And I've even had people ask me if I'd pay them under the table so they could keep collecting these benefits, course I said no. And they're not protecting you, because they or their workers can sue you if they get hurt on your property.
The licensed tree companies are stimulating the economy because they're paying taxes, and their employees are paying taxes. They're paying federal taxes, Medicare, unemployment taxes and social security. So next time you think about hiring any john doe off of craigslist, and you don't care whether they're licensed or not. Think about what you're doing to the economy by saving fifty to hundred bucks and the gamble your taking by having someone unlicensed working on your property.
And for you unlicensed guys that are doing tree removal: next time you get a call for an estimate — it might be an undercover sting. Good luck.
Brought to you by;
Jon Davis Tree Service
Spring Hill FL
352-799-3494
Date Published: 02/24/2015
This was a great article, well written and very informative.