352-799-3494
Brooksville, FL Tree Trimming Company Options
Hi, this is Jon Davis tree service and removal LLC again. Let's talk about Brooksville tree trimming companies one more time. ..They don't exist because Brooksville has no licensing requirements for tree trimming!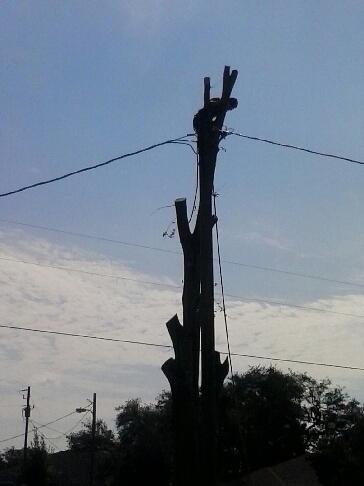 To bypass this problem, a smart customer would call a Hernando county tree service that is licensed. Hernando County requires four years of experience, knowledge of trees, insurance, bond, and a criminal and financial background check before a license is issued. Jon Davis Tree Service is one of the licensed Hernando county tree services.
Jon Davis Qualifications
In addition to the Hernando County license requirements, I have taken courses in Advanced Code, Principles Of Risk Management And Legal Liability, Work Place Safety, Workers Compensation, Business Practices, Business And Professional Regulations, Laws And Rules, and Wind Mitigation. I have taken several courses at the Contractor's Institute.
Benefits of Professional, Licensed Tree Services
Would you rather hire someone with licensing, schooling, and experience? What about the guy that mows your lawn who is pretty sure he can get that tree down without breaking anything? Of course he can do it for less because he has no overhead, license, experience, insurance, or bond but you can save a hundred and fifty dollars. That's if he doesn't drop a big limb on your house. If that happens you might be out more than the few bucks you saved!
Facts About Tree Service Company Equipment
Tree work requires much more than looking at a tree and thinking you can get it down without breaking anything. It requires more than just having a ladder, rope, and chainsaw.
There are different grades of chain saws and ropes. For instance, there is a big difference in the quality of half inch rope.
1/2″ rope from Lowe's: 500 lb. load capacity – $30
1/2″ rope from Amsler's: 7,000 lb. load capacity – $200
Most professionals stay away from ladders. They are nothing but dangerous. Tree experts use a lanyard to hold themselves into the tree. I have seen inexperienced tree men use a rope. The difference is a tree lanyard has a steel cable in it. It can't be cut by a chainsaw, therefore protecting the climber. If you're tied in with a rope and the chainsaw hits the rope you're on the ground quick! A fall from an unlicensed, uninsured, unprofessional tree trimmer can even leave you liable to be sued.
Now let's look at chain saws: there are three grades.
Home Owner's
Land Owner's
Professional Grade
The professional grade are made a hundred percent tougher. They are lighter weight, and they start when you pull on the cord. If my guys use a home owners saw it burns up in about two weeks. If we use a land owner's saw it burns up in about two months. A good professional saw that's used every day will last about two years.
Safety equipment is expensive.
Safety harness: $300
Spikes: $150
Tie in safety line: $200
Tree Rope: $200
Professional Climbing Saw: $700
Medium Professional Saw: $700
Large Professional Saw: $900
Total: $3150
What happens a lot with unlicensed guys:
Ladder from a garage sale: $20
Saw from a garage sale that may or may not start: $5
A rope from Lowe's: $30
Total: $55
Unsafe work by uninsured workers can leave you liable to lawsuits if anything goes wrong.
When you hire a licensed tree company you're hiring the license, insurance, bond, experience, knowledge, and equipment. Be smart and always hire a licensed contractor. To verify licenses in Hernando County call 352-754-4050.
Jon Davis
Owner / Tree Climber
Jon started working full time for his father at age 18. By the age 19 Jon was licensed by Hernando County, but it was not without a fight. Some thought he was too young, but his knowledge and experience won out. He was the youngest person to receive a tree contractor license in Hernando County. He has since taken over his father's business.
18200 Evening Star Ave
34608
US
highinthetree@yahoo.com
Phone: 3527993494